I wanted to start this diary to document the progress of Molly Malone, our baby. She came home at 6 AM today and was brought immediately to the bedroom. We set her cage on the bed and lifted the top off. After about 20 minutes she ventured out onto the bed cautiously. When I noticed her grooming excessively, I opted to return the lid and let her rest. At 2 PM we purchased her new residence. I love it to death. We also purchased a fleece hammock, teddy bear<--animal safe, a wood carrot for chewing, and some fresh vegetables. Around 4 PM we lifted the lid of the old cage and let her run freely around the bedroom. She is cautious of us and is frightened to be touched. We were able to life her in her tube into her new cage. It has 3 levels and she was content to stay on the first level inside her new purple igloo. She is resting now, she has had a long day. I hope I can show her what love is.
I also added a slide for safe fun for my frisky baby.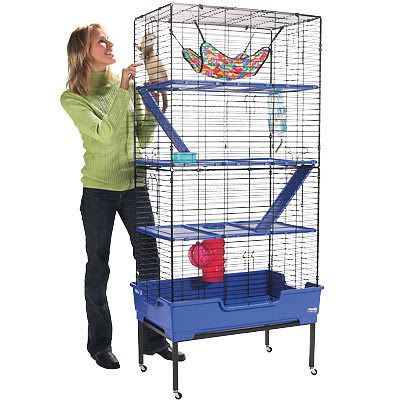 Click here for purchasing info
The cozy Hammock
Click here for purchasing info
More pictures to come, Miss Molly is sleeping and I shan't disturb her till morning.